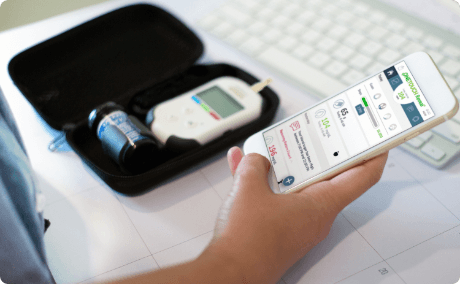 Digital Coaching Fulfills a Real Need
As people strive to live well with diabetes, many need real-time support to help improve their daily self-care.
50% of people with diabetes are not achieving glycemic targets.1
70% of people with diabetes fail to recognize a high blood glucose level.2
54% on Insulin say they do not respond regularly to high or low blood glucose readings.3
The OneTouch Reveal® Plus app has been designed to support the key self-care skills identified by the ADA and the AADE as essential for living well with diabetes. The digital diabetes coach puts data-driven technology to work for patients, care teams and health plans.
Personalized Coaching Anytime, Anywhere
AI technology provides thousands of customized messages to help guide people with diabetes through high or low episodes.
Find Food Within Carb Range
Snap a picture, scan barcodes, or use the restaurant helper to help make smarter dietary choices.
Care Team Integration
SMART Visit Reports and data sharing tools help to improve engagement and communication with care teams.
Certified Diabetes Educators
Empower self-care and get extra support with access to a team of educators and OneTouch U™.
Syncs to Health Devices
Seamlessly integrates with select activity trackers, weight and blood pressure devices, and glucose meters.
For Health Plans and Systems
The OneTouch Reveal® Plus app, powered by BlueStar®, is indicated for use by patients aged 18 and older who have Type 1 or Type 2 diabetes and their healthcare providers. The app is not intended to replace the care provided by a licensed healthcare professional. The app should not be used by patients with gestational diabetes or patients using an insulin pump. BlueStar® is a Welldoc, Inc. patented system. The OneTouch Reveal® Plus app is manufactured by Welldoc, Inc.