Private insurance

Lowest co-pay on the most health plans*

74% of OneTouch® brand users with private insurance pay $20 or less on 50ct test strips.§
OneTouch® testing supplies are widely available at retail pharmacies across the U.S. and health plan approved mail order suppliers.
Traditional Medicare (Fee-for-Service)

OneTouch® products are always covered when you show your red, white and blue Medicare Part B card

After you meet your $198 deductible:
You pay only $1.66 for a box of 50 test strips
You'll pay $0 with most supplemental insurance†
OneTouch® products are available for Medicare Part B patients through retail pharmacies. Be sure to say you want OneTouch® brand test strips.
OneTouch® Savings Program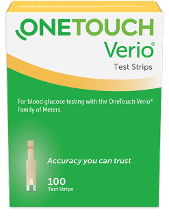 OneTouch® Savings Program
If your insurance doesn't cover OneTouch® test strips, you can keep using the #1 doctor recommended brand. Learn more about our Automatic Savings Program now.