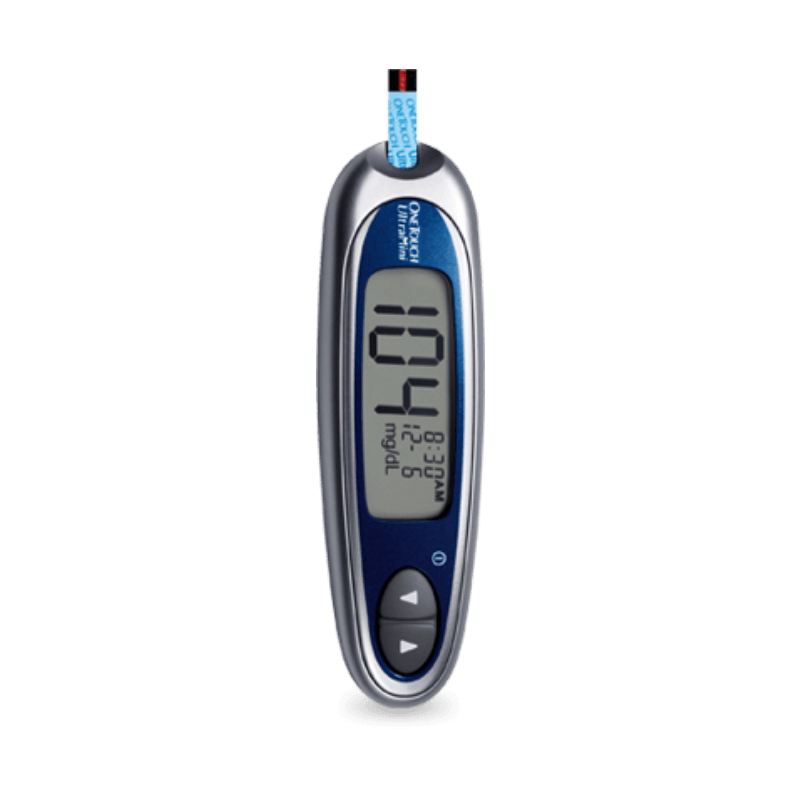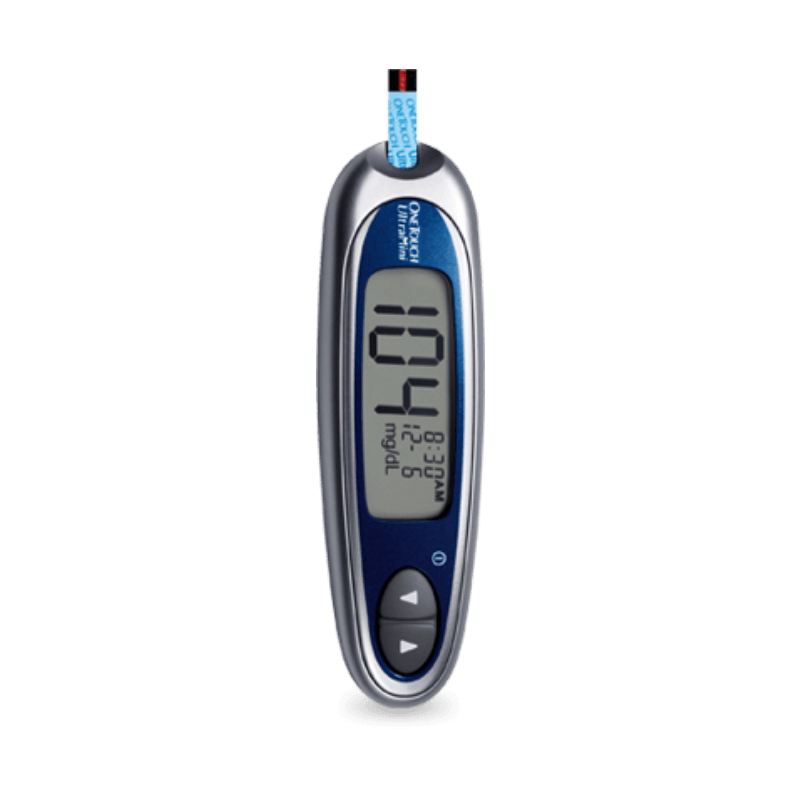 OneTouch® UltraMini® meter
This meter is no longer being distributed. We will continue to provide customer service support and warranty replacement.
Fast and simple way to test.
Small enough for your purse or pocket.
OneTouch® Ultra® test strips have the lowest copay on the most health plans.*
Always covered on Traditional Medicare Part B — $0 with most supplemental health plans.**

See if you qualify for a free meter and upgrade to the OneTouch Verio Flex® meter.
FAQ
Before using the OneTouch® UltraMini® meter to test your blood glucose, carefully read the User Guide and inserts that come with the components of the system.
How do I turn on the OneTouch® UltraMini® meter?

To perform a test, insert a test strip as far as it will go. The display will turn on and the meter will briefly perform system checks.

To view past results, start with the meter off, then press and release ∨.

Every time you turn your meter on, a start-up screen will appear for two seconds. All segments of the display should appear briefly on the start-up test screen to tell you that the meter is working properly. See the Getting to Know Your System Section of your User Guide for an example of what the screen should look like.

If the meter does not power on, try changing the meter battery.

CAUTION: If any information is missing from the start-up test screen, there may be a problem with the meter. Call Customer Care at 1-800-227-8862.

Code numbers are used to calibrate your meter with the test strips you are using to obtain accurate blood sugar results. You must code the meter before using it for the first time and then every time you change to another vial of test strips.

What battery do I use with the OneTouch® UltraMini® meter?

Your OneTouch® UltraMini® meter uses one 3.0 Volt CR 2032 lithium battery (or equivalent). Your meter comes with the battery already installed.

How many results will the OneTouch® UltraMini® meter store and where can I view past results?

The meter stores your most recent 500 blood glucose test results and displays them in the order the tests were taken.

If your meter is off, press and release ∨ to turn it on. After the start-up test screen, your most recent test result will appear on the display. "M" also appears to indicate memory mode.

If you have just completed a test, leave the test strip in the meter and press ∨ to enter the memory mode.

Press ∨ to move to the previous result stored in the meter. Then, press ∧ or ∨ to move forward or backward through all of your results. See your User Guide for complete instructions.
Related Products
OneTouch Ultra® test strips
DoubleSure® Technology automatically checks each blood sample twice.
*Some health plans may have more than one brand available at the lowest copay.
**Not a guarantee of coverage and payment. Coverage and payment may be subject to co-insurance, deductible and patient eligibility requirements.