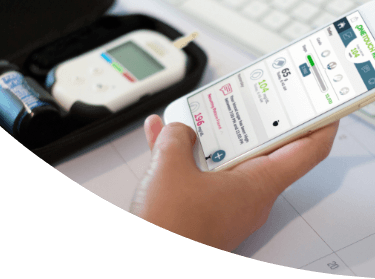 Upgrade to a OneTouch® meter
Complete this question to see if you qualify for a free OneTouch Verio® brand meter.
Offer terms: This offer from LifeScan, Inc. can only be redeemed in the United States and where OneTouch® products are sold and prescriptions can be processed. Requires a valid prescription. Qualifying conditions may apply. Offer valid for one meter per patient every 12 months. No claim for reimbursement may be substituted to any payer for a meter covered by this program. Test strips are sold separately and are not part of this offer.
By answering these questions and participating in the promotion you agree to the offer terms. Any information you submit is governed by our Privacy Policy if you qualify for the offer and complete your request.
Download the OneTouch Reveal® app
The OneTouch Reveal® app can help you manage your blood sugar when connected to a OneTouch Verio Reflect® or OneTouch Verio Flex® meter.
Apple, the Apple logo, iPhone, iPad and iPod touch are trademarks of Apple Inc., registered in the US and other countries. App Store is a service mark of Apple Inc.
Google Play and the Google Play logo are trademarks of Google LLC.
The Bluetooth® word mark and logos are registered trademarks owned by Bluetooth SIG, Inc. and any use of such marks by LifeScan Scotland Ltd. and its affiliates is under license. Other trademarks and trade names are those of their respective owners.
‡ Some health plans may have more than one test strip covered at the lowest co-pay.
* Compared to a result without color. Based on a study with 103 patients with diabetes, conducted in the UK in 2015 and 2016 using a simulation of blood glucose results with and without a color range indicator (ColorSure® technology). 65% of 94 insulin using patients agreed.
† Do not make immediate treatment decisions based on the Range Indicator feature. Treatment decisions should be based on the numerical result and healthcare professional recommendation and not solely on where your result falls within your range limits.
¶ Symphony Health Retail Pharmacy Claims Data Jan 2017-Apr 2018. Plan types include Commercial, Medicare Advantage, and Managed Medicaid.